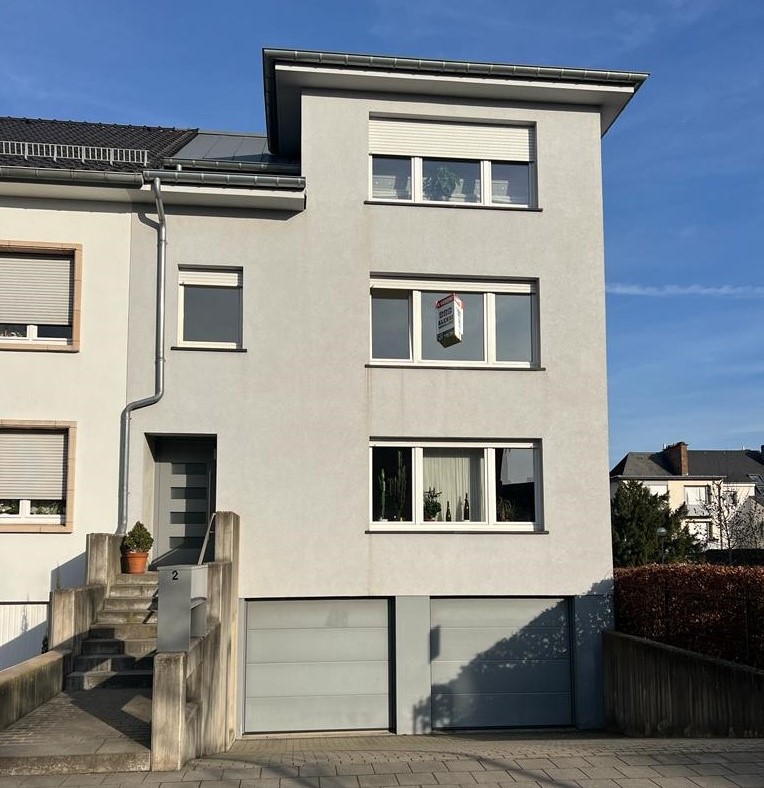 img-20230209-wa0065.jpg
img-20230209-wa0057.jpg
img-20230209-wa0067.jpg
img-20230209-wa0064.jpg
img-20230209-wa0058.jpg
img-20230209-wa0060.jpg
img-20230209-wa0061.jpg
img-20230209-wa0062.jpg
img-20230209-wa0063.jpg
20230209152107.jpg
FR:
ALENSI immobilière vous propose en exclusivité un magnifique appartement d'une surface habitable de 100m2 avec 3 chambres à coucher à Esch-sur-Alzette.
 
Cet appartement vous séduira par ses volumes, son agencement et sa luminosité.
 
Il se trouve au 1er étage et se compose comme suit :
 
-       Vaste hall d'entrée avec des placards encastrés,
-       Cuisine équipée et séparée,
-       Séjour – salle à manger (+/-30m2),
-       3 belles chambres à coucher (16m2, 13m2, 10m2) dont 1 avec l'accès au balcon(6m2),
-       Salle de douche (douche, lavabo, WC),
-       WC séparé avec lave-mains,
 
Pour compléter : garage fermé, emplacement de parking extérieur privé, cave privative, buanderie commune, jardin commun.
 
*Nous recherchons en permanence pour la vente et pour la location, des appartements, maisons, studios, terrains à bâtir etc, pour notre clientèle déjà existante. N'hésitez pas à nous contacter si vous avez un bien pour la vente ou la location.
Estimation gratuite.
Nous pouvons vous aider pour l'obtention de votre crédit, ainsi que pour vos assurances.
 
Pour plus d'infos veuillez contacter sous +352 621 770 791 ou +352 621 777 177.
 
 _________________
ENG:
ALENSI REAL ESTATE exclusively offers you a magnificent apartment with a living area of ​​100m2 with 3 bedrooms in Esch-sur-Alzette.
 
This apartment will seduce you with its volumes, its layout, and its luminosity.
 
It is on the 1st floor and is composed as follows:
 
- Large entrance hall with built-in wardrobe,
- Equipped and separate kitchen,
- Living- dining room (+/-30m2),
- 3 beautiful bedrooms (16m2, 13m2, 10m2), 1 of them with access to the balcony (6m2),
- Shower room (shower, washbasin, WC),
- Separate WC with washbasin,
 
To complete: closed garage, private outdoor parking space, private cellar, common laundry room, nice common garden.
 
*We are constantly looking for the sale and rental of apartments, houses, studios, building plots, etc., for our existing clientele. Do not hesitate to contact us if you have a property for sale or rental.
Free estimate.
We can help you obtain your credit, as well as your insurance.
 
For more info, please contact under +352 621 770 791 or +352 621 777 177.
 
Esch-sur-Alzette,
Apartement
2, Rue de la Tuilerie
3 bedrooms
2 Parking
Living area: 100 m2
Floor : 1
3 bedrooms
Availability: Immediate
Energy pass:
Thermal protection class:
Features
Living room (30.00)
Dining Room
Equipped kitchen
Separate shower
WC
Balcony (6.00)
Garden
Garage (1)
Parking lot: (1)
Basement
Laundry
Gas heating