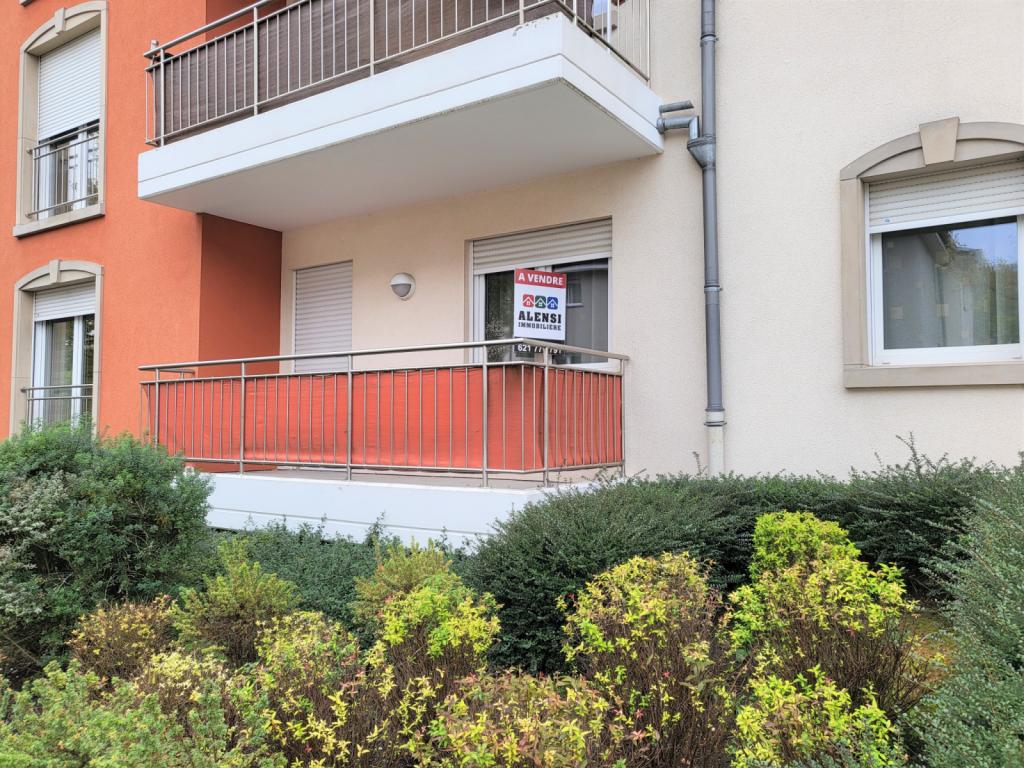 20221110114204.jpg
20221110114256.jpg
20221110114408.jpg
20221110114751.jpg
20221110114821.jpg
20221110114552.jpg
20221110114842.jpg
20221110114506.jpg
FR :
ALENSI immobilière vous propose en exclusivité un magnifique appartement d'une surface habitable de 88m2 avec 2 chambres à coucher à Luxembourg-Beggen dans une rue calme.

L'appartement se trouve au RDC et se compose comme suit :
- Hall d'entrée avec la niche pour un placard sur-mesure,
- Cuisine équipée et séparée,
- Séjour – salle à manger donnant accès sur la terrasse de 6m2,
- 2 chambres à coucher,
- Salle de bains (baignoire, douche, double vasque)
- WC séparé avec lavabo,
- Débarras.

Pour compléter : cave privative, buanderie commune, emplacement de parking

*Nous recherchons en permanence pour la vente et pour la location, des appartements, maisons, studios, terrains à bâtir etc, pour notre clientèle déjà existante. N'hésitez pas à nous contacter si vous avez un bien pour la vente ou la location.
Estimation gratuite.
Nous pouvons vous aider pour l'obtention de votre crédit, ainsi que pour vos assurances.
Pour plus d'infos veuillez contacter sous +352 621 770 791 ou +352 621 777 177.
____________________________________________
ENG :
ALENSI Real Estate exclusively offers you a magnificent apartment with a living area of 88m2 with 2 bedrooms in Luxembourg-Beggen in a quiet area.

The apartment is on the ground floor and is composed as follows:
- Entrance hall with a place for a wardrobe,
- Equipped and separate kitchen,
- Living room - dining room giving access to the 6m2 terrace,
- 2 Bedrooms,
- Bathroom  ( bathtub, shower, double sink),
- Separate WC with sink,
- Storeroom.

To complete: private cellar, common laundry room, parking space

*We are constantly looking for the sale and rental of apartments, houses, studios, building plots, etc., for our existing clientele. Do not hesitate to contact us if you have a property for sale or rental.
Free estimate.
We can help you obtain your credit, as well as your insurance.
For more info, please contact under +352 621 770 791 or +352 621 777 177.
____________________________________________
LETZEBUERG :

ALENSI immobilière proposeiert ierch an exclusiviteit een super appartement vun enger surface vun 88m2 mat 2 schloofzemmeren zu Luxembourg-Beggen an eng roueg strooss.

Deen befennt sech am RDC an deen composeiert sech aus :
-       Hall d'entrée mat plaatz vier miwwel op d'moos,
-       Equipeiert an separat kichen,
-       Wonnzemmer - Iesszemmer mat accès op d'terrasse 6m2,
-       2 schloofzemmeren,
-       Buedzemmer (biden, douche, double lavabo),
-       Separaten WC mat lavabo,
-       Stockage.
Vier deen ze completeieren : privaten keller, gedeelt buanderie, parkings plaaz.

*Mir sichen permanent ze verkaafen an ze lounen, appartementer, heiser, studioen, terrains ze bauen etc, vier eist bestehend clientèle. Hesiteiert net eis ze kontakteieren falls dir eppes ze verkaafen oder ze verlounen hudd.
Gratis estimatioun.
Mir kennen ierch hellefen vier aeren krédit an och vier aert assurancen.
Vier méi informatiounen, kontakteiert eis op +352 621 770 791 oder +352 621 777 177.

____________________________________________

PORTUGUES :

ALENSI imobiliaria propõe-vos em exclusividade este magnifico apartamento de uma surface habitavel de 88m2 com 2 quartos em Luxembourg-Beggen situado em uma rua calma.

Este mesmo encontra-se no RDC e é composto por :
-       Uma entrada com espaço para armario à medida,
-       Cozinha équipada e separada,
-       sala - sala de jantar com acesso ao terraço de 6m2
-       Casa de banho (banheira, douche, pia dupla),
-       WC separado com pia,
-       Despensa.

Para completar : uma cave privada, lavanderia em comum, estacionamento.

*Estamos permanentemente à procura para venda e aluger, apartamentos, casas, estudios, terrenos para contrução para a nossa clientela jà existente. Não exite em nos contactar se tiver algum bem para vender ou alugar.
Estimação gratis.
Para mais informações contacte-nos no +352 621 770 791 ou +352 621 777 177.
 
Luxembourg-Beggen,
Apartement
2 bedrooms
1 Parking
Living area: 88 m2
2 bedrooms
Availability: Immediate
Energy pass:
Thermal protection class:
Features
Living room
Dining Room
Equipped kitchen
Bathroom (1)
WC
Terrace (6.00)
Garage (1)
Basement
Laundry
Gas heating
Elevator