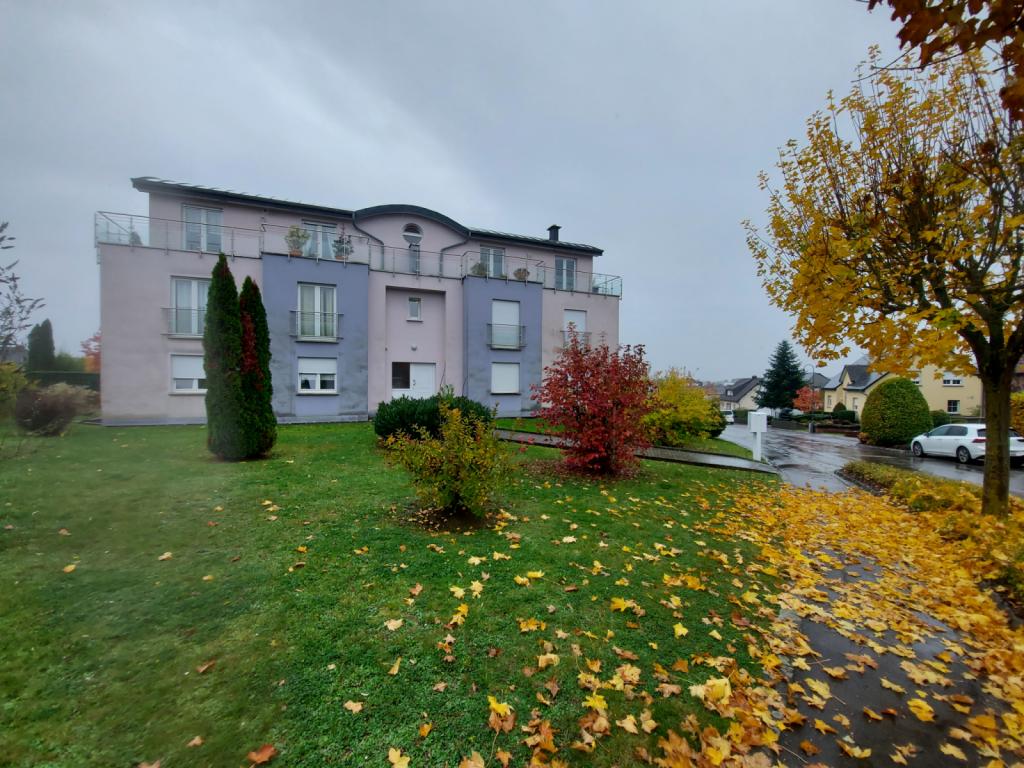 20211030123949.jpg
20211030124019.jpg
20211030124304.jpg
20211030124153.jpg
20211030124116.jpg
20211030124144.jpg
20211030124059.jpg
46762d66-a464-4419-945a-320710adc28c_662.jpg
20211030124213.jpg
20211030124500.jpg
Français: ALENSI Immobilière vous propose en exclusivité un bel Appartement situé à centre du Mondorf-les-Bains avec une superficie de 92 m2.
Il se compose comme suit:
- Hall d'entrée,
- Cuisine équipée,
- Spacieux séjour - salle à manger donnant l'accès sur le balcon,
- 2 chambres à coucher,
- Salle de bains,
- WC séparé
, - Dressing.

Pour compléter: garage box fermé, cave privative.
Cet Appartement se trouve dans un Quartier très calme, idéal pour vivre en tranquillité et en nature.

Disponibilité à partir de 1 mars 2023

Pour plus infos veuillez contacter sous +352 621 770 791 ou +352 621 777 177.

ALENSI Immobilière recherche des propriétés, maisons, appartements et studios à achèter pour notre clientèle. Crédit accordé / Garantie

Luxembourgeois: fir ze verlounen

D'ALENSI Immobilière bitt Iech exklusiv e schéint Appartement am Zentrum vu Munneref-les-Bains mat enger Fläch vun 92 m2.
D'Appartement besteet aus 2 Schlofkummeren, grousst Wunnzëmmer, Buedzëmmer, separat Toilette, e Kleederschaf, Keller, zougemaach Garagekëscht.

Dëst Appartement ass an enger ganz roueger Regioun, ideal fir am Fridden an an der Natur ze liewen.

Fir méi Info mellt w.e.g. ënner +352 621 770 791 / +352 621 777 177

D'ALENSI Immobilière sicht Eegeschaften, Haiser, Appartementer a Studios fir eise Clienten ze kafen. Kredit verginn / Garantéieren

English:
For rent ALENSI Immobilière exclusively offers you a beautiful apartment located in the center of Mondorf-les-Bains with an area of 92 m2.

It is composed as follows:
- Entrance hall,
- Equipped kitchen,
- Spacious living room - dining room giving access to the balcony,
- 2 Bedrooms,
- Bathroom,
- separate WC,
- Dressing room.
To complete: closed garage box, private cellar.

This Apartment is located in a very quiet area, ideal for living in peace and in nature.
Availability starting from 1st of March 2023.

For more info please contact under + 352 621 770 791 or +352 621 777 177 ALENSI Immobilière is looking for properties, houses, apartments and studios to buy for our clients.
Mondorf-les-Bains ,
Wohnung
2 schlafzimmer
1 Parkplätze
Wohnfläche: 92 m2
Boden : 1
2 schlafzimmer
Verfügbarkeit: Sofort
Energieausweis: C
Wärmeschutzklasse: C
Ausstattung
Wohnzimmer
Esszimmer
Einbauküche
Badezimmer (1)
Gäste-WC
Balkon
Garage / geschlossener Parkplatz (1)
Stellplatz
Keller
Waschküche
Heizung